Assume normal weather for the United States natural gas 2014-15 winter draw period. Then the NYMEX natural gas complex in general probably will trade in a sideways trend. The broad range remains roughly 5.00/5.20 to 3.38/3.55 (NYMEX nearest futures continuation contract).
Unless the upcoming winter is much warmer than normal (or fears grow that it will be), or unless gas production spikes more than most prophets predict, then prices for NYMEX nearest futures probably will not attack major support around 3.00/3.13 during the next several months. Recall the 3.05 bottom on 1/2/13 (and the gap relative to the 3.046 high on 9/26/12) as well as 2/15/13's 3.125 low and 8/8/13's 3.129 trough. Given the low days coverage inventory situation, the NYMEX nearest futures continuation contract probably will challenge the 5.00/5.20 range during this upcoming draw season if the winter is significantly colder than normal (or concerns increase that it will be).
Despite the leap in United States natural gas production in calendar 2014, with a further moderate increase expected in 2015, natural gas days coverage at the end of October 2014 is significantly below average. Even by end March 2015, inventory days coverage probably will remain moderately below average (normal, typical, desired, reasonable, prudent) levels, though less so than at end October 2014. And though much can happen between now and October 2015, days coverage at end October 2015 arguably will rest under average levels.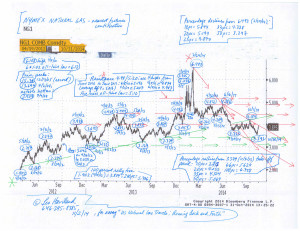 FOLLOW THE LINK BELOW to download this article as a PDF file.
US Natural Gas Travels- Running Back and Forth (11-2-14)
Chart- NYMEX natural gas (nearest futures) (11-2-14, for essay US Natural Gas Travels)