Assume normal weather and moderate United States economic growth. Then natural gas inventories in the US Eastern Consuming Region at the end of the 2014 build season probably will range between 1825bcf and 1930bcf. Around 2050bcf is about "normal" (average) for current United States supply and demand patterns. This current bullish inventory picture for the Eastern Consuming Region for the balance of build season parallels the bullish stock outlook of the US Producing Region.
Within the American natural gas scene, Producing Region and Eastern Consuming Region inventories have bigger marketplace shares than that of the Western Consuming Region. Is the Western Consuming Region's inventory situation for build season 2014 bullish or bearish? The Energy Information forecasts that Western inventories will exceed 560bcf, a bearish perspective relative to that region's 511bcf end build season average. However, the EIA probably overstates the likely amount of Western inventory building. Not only did Western stocks finish winter 2013-14 draw season at very low levels. Based on historical analysis of builds following comparable low starting totals, Western end build season inventories probably will be around 450bcf to 500bcf. This outcome is slightly bullish.
Despite the sharp price slump in NYMEX natural gas nearest futures continuation after its 2/24/14 peak at 6.493, the overall US inventory situation for the balance of 2014 build season remains bullish. The NYMEX natural gas complex during the course of build season probably will remain in a sideways trend. The NYMEX nearest futures contract probably will stay in a range from 3.80 /4.00 to 5.00/5.20. See "US Natural Gas Inventory Building: the Producing Region Picture" (5/18/14) for price forecast and Producing Region inventory details.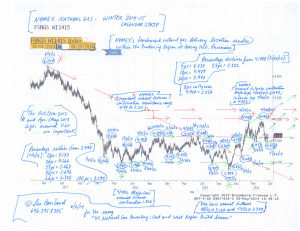 FOLLOW THE LINK BELOW to download this article as a PDF file.
Natural Gas Inventory- East and West Region Build Season (6-2-14)
Chart- NYMEX natural gas winter 2014-15 strip (6-2-14, for essay US Natural Gas Inventory- East and West Region Build Season)