In recent months, economic and political excitement within assorted emerging, developing, and frontier nations have entranced most marketplace observers and captured the attention of numerous politicians in the United States and other so-called advanced nations. In contrast, Japan, having once been in the limelight, nowadays stands in the background of the international financial theater. However, Japan currently deserves more of a starring role.
Japan's changing political leadership in late 2012 and the subsequent major new round of substantial monetary laxness encouraged major- and intertwined- Japanese Yen weakness and Japanese equity (Nikkei) strength. The new Japanese policies, the Nikkei's stratospheric rally, and the Yen's rapid bear tumble probably helped to encourage global economic optimism in general as well as rallies in the S+P 500 and many other key world stock marketplaces in particular.
Yet at present, many players nevertheless increasingly take for granted Japan's extraordinary monetary easing actions of early 2013 (and related other parts of "Abenomics") and their marketplace consequences. Clairvoyants likewise currently place comparatively little emphasis on Japan's current sluggish GDP prospects. They also do not underline that both the Japanese Yen and Nikkei apparently entered into a sideways trend beginning around late May 2013.
Of course diverse and entangled variables influence economic levels and trends (and storytelling about them), whether in Japan or elsewhere. But because Japan rather recently ventured on such extraordinary monetary easing, signs of mediocre Japanese economic performance warn that other very lax central bank policies increasingly will have diminished growth benefits as time passes. For example, the International Monetary Fund predicts Japan's calendar 2015 real GDP will increase merely one percent. Japan also has not escaped its gloomy government spending and debt situation. The sideways trends in the Nikkei and Yen arguably reflect such current (potential) Japanese performance.
The recent high in Japanese stocks and bottom in the Yen probably will not be broken by much if at all any time soon. Also, a notable (even if not major) decline in the Nikkei from its recent peak alongside a rally in the Yen relative to its recent low will be a bearish sign for the world economy as well as for the S+P 500 and many other stock marketplaces.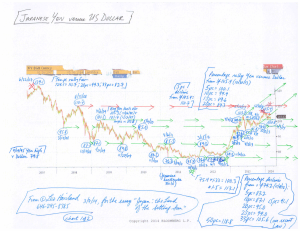 FOLLOW THE LINK BELOW to download this market essay as a PDF file.
Japan- the Land of the Setting Sun (3-7-14)
Charts- Japanese Yen and Nikkei (3-7-14)