Financial marketplaces provide players not only opportunities for profit (and loss), but also entertainment and excitement. Communities across America just finished observing thrilling Fourth of July holiday fireworks displays. Yet in contrast to this explosive holiday festivity, financial marketplace stargazers should underline the comparatively peaceful current trends of assorted iconic national benchmarks.
The United States government 10 year note established a major low in July 2012. However, for the past year or so it has been range bound. The broad real trade-weighted US dollar and commodities in general (enlist the broad Goldman Sachs Commodity Index as a signpost) also have traveled sideways, but for an even longer span. What about stocks? The S+P 500 has skyrocketed, nearly tripling since its 3/6/09 major bottom at 667, blasting higher from such interim lows as 10/4/11's 1075, 11/16/12's 1343, and 6/24/13's 1560. But although the S+P 500 has continued to fly upwards and amaze audiences, the S+P 500's key VIX volatility measure recently nevertheless has plummeted almost to ground level.
The past and ongoing determination of central bankers around the world, not just the Fed, to create sufficient inflation probably will play a key part in causing American government interest rates to rise and break out of their sideways trend. Deflation (or too low inflation) will be battled no matter what! Fearful "flights to quality" (as into the US or German sovereign debt marketplaces) must be remedied! But how eager will be people sitting on US Treasury and other interest rate instruments with rather low yields to keep doing so as rates climb? Foreigners have a huge stake in the trillions of dollars of US Treasury debt.
The Fed's massive money printing and bloated balance sheet should make viewers cautious that they can guide marketplaces to happy results. Besides, its exit strategy rhetoric to date falls well short of a coherent detailed plan. How alert was that guardian before and during the early stages of the worldwide crisis that emerged in mid-2007 and erupted in 2008? Also, despite America's economic growth, the nation as a whole (not just the federal government) still has enormous overall debt relative to GDP. Moreover, substantial actions to solve its long run federal debt problems remain a distant dream.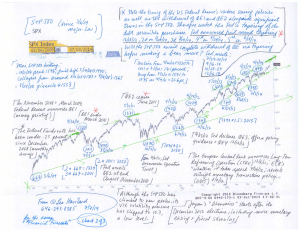 FOLLOW THE LINK BELOW to download this article as a PDF file.
Financial Fireworks (7-7-14)
Charts- Ten Yr UST, S+P 500, GSCI (7-7-14, for essay Financial Fireworks)