The dreadful economic crisis which emerged throughout the interconnected global economy after the departure of the Goldilocks Era in mid-2007 saw its darkest times in late 2008/early 2009. Politicians and central bankers around the globe took decisive action to escape and repair the disaster and to spark and sustain recovery. From late 2008/early 2009 through the ensuing years, dramatic United States Federal Reserve policy action, and especially massive quantitative easing (money printing), often has been associated with rising interest rates in the ten year US Treasury note. The ending of quantitative easing has connected with declines in the 10 year UST yield.
In the American theater, the past several years indicate that rising UST 10 year yields tie in with the reality of (or hopes for) at least a moderate economic recovery. Slumping UST rates are bound to the existence of (or fears about) more feeble US (and international) growth (or even worries that a downturn may occur). History of course need not repeat itself, and viewpoints change. Nevertheless, and despite America's strong 2Q14 GDP expansion, the decline in UST 10 year yields over the course of the Fed's current slow tapering program suggests that US and worldwide economic growth probably is and will remain mediocre.
The European Central Bank probably will embark on a modest money printing adventure in the relatively near future. However, all else equal, that decision likely will boost- but not substantially- the key German sovereign 10 year note yield (and 10 year government note yields in America and many other key nations).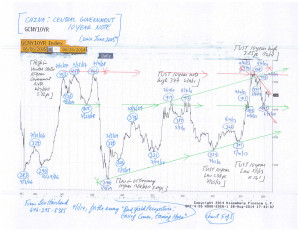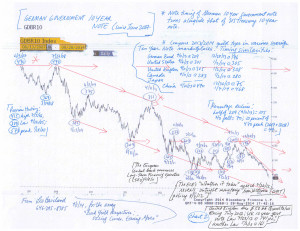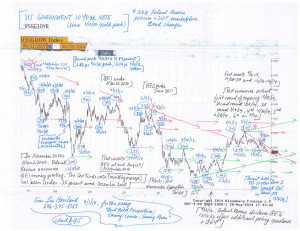 FOLLOW THE LINK BELOW to download this article as a PDF file.
Bond Yield Perspectives- Easing Comes, Easing Goes (9-1-14)
Charts- Ten Year Notes (9-1-14, for essay Bond Yield Perspectives- Easing Comes, Easing Goes)